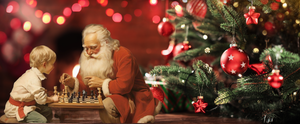 Official Staunton is your number-one choice regarding high-quality chess sets. Established in 2001, we have emerged as the UK's leading supplier of quality chess sets and boards.

Our goal is to bring the most unique and highest quality products at affordable prices including tournament sets, boards, pieces, accessories and more! Whether you're a beginner or advanced player we have everything you need to take your game up to the next level. With decades of professional know-how behind us we are confident that our collection will give any enthusiast great selection without compromising on quality. Staunton is a name you can trust. We are the world's premier source for the finest luxury chess sets available on the market today. We take great pride in the services we provide to all the dedicated fans of the timeless tradition of the game, chess. We sell the Staunton chessmen still produced by Jaques of London that chess champion Howard Staunton originally signed his name to in 1849. OfficialStaunton.com also offers the most recent enhanced variations of the Staunton design from manufacturers all over the world that continue to meet and exceed the FIDE and USCF official tournament and formal play requirements. We offer only the highest-quality chess supplies at discounted prices with fast delivery and friendly service.
During our 20-plus years of service, we have also been privileged to have supplied chess sets to HM the Queen via privy purse, Linley at Belgravia, The Savoy London, and the TV show The Apprentice. We are also an approved distributor of the renowned English Chess Company, whose director, Malcolm Pein, runs a chess editorial at the Daily Telegraph. Please feel free to contact us at anytime, day or night. We are more than happy to assist you in finding the greatest, heirloom-quality chess set you will ever own. By buying your chess set from us, you can rest assured that you will receive the best quality chess pieces in the UK. Staunton chess pieces are a standard design of chess pieces that are widely used in chess tournaments and in chess sets sold to the general public. They are named after Howard Staunton, a leading 19th-century chess player and chess writer who played a key role in popularising the design.
Trust Pilot helps independent businesses like ours grow, so why not help by leaving us a review? It will also help customers just like you who want to buy high-quality products from trusted UK brands.
4" Leningrad Staunton Boxwood & Black Chess Pieces
I am so pleased with my purchase. Definitely went above my expectations



Sean Boulter

UK
Lovely lovely Ebony chess set with a stunning chess board . Excellent service could not be happier

Anthony

UK
Excellent service. Went above and beyond to help me choosing my order.

J.W.

UK
Excellent Chess Set amazing customer service pre ordering

Helen

UK
The most beautiful pieces, perfectly weighted and a lovely matching chess board.

Chris Stacey

UK
The English Chess Company
Garners Lane
Shropshire
SY13 2NF
TEL: +44 (0) 1948 880 060
Official Staunton™ is a trading name of The English Chess Company. GB157268877